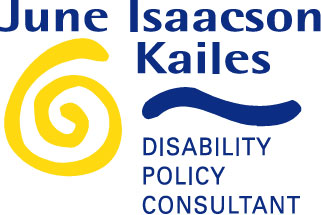 June Isaacson Kailes, (www.jik.com) is a Disability Policy Consultant and the Associate Director and Adjunct Associate Professor at Harris Family Center for Disability and Health Policy at Western University of Health Sciences, Pomona, California. Her breadth and depth of experience in disability and access and functional needs issues as a writer, trainer, researcher, policy analyst, subject matter expert, and advocate is widely known and respected.
June's focuses encompass working as a contractor with a variety of health facilities, health plans, government projects and other consulting firms to build actionable disability competencies into the world of health care. These projects include work with Rehabilitation Research and Training Centers: on Aging with a Disability, Managed Care and Disability, Health and Wellness and Disability, National Center of Physical Activity and Disability and the Rehabilitation Engineering Research Center on Accessible Medical Instrumentation, and the Access Board.
She also works as a co-developer of the Disability-Competent Care Self-Assessment Tool, Webinar Series: Training in Disability-Competent Care and Supports and Defining and Delivering Disability-Competent Care. She delivers workshops on developing disability competencies in health care covering the demographics of disability populations (prevalence, causes, function versus diagnosis, employment rates, and health disparities) compliance with the Americans with Disabilities Act (attitudinal, communication, physical, medical equipment and programmatic access), care coordination and long term support services, and stakeholder engagement.
June publishes extensively on health issues related to people with disabilities and others with access and functional needs. A few of her frequently used and cited publications and materials include:
June is the recipient of many honors and awards, and has delivered hundreds of keynote addresses, workshops and seminars and has over 200 publications on disability-related health, wellness and aging with disability, and emergency issues. She has held many offices on the boards of the National Council for Independent Living (NCIL), and the California Foundation of Independent Living Centers. As a presidential appointee to the United States Access Board where she served as its chair and vice chair. June is a well-known and respected disability rights advocate and consultant. Recognized nationally and internationally, she is one of the original national leaders in the Independent Living Movement.

Selected
CV available upon request

Home | Emergency Work | Emergency Resources | Health Work

jik@pacbell.net
© 1998 - 2016 June Isaacson Kailes, Disability Policy Consultant, All Rights Reserved.
Created 11/8/97 |01.24.16