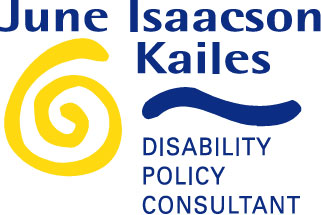 June has over four decades of health care experience. Her work offers clarity, precision, and specificity in building inclusive planning and service practice competencies. Examples of her impact, influence, and work includes:
Training that goes beyond disability etiquette, sensitivity and awareness by focusing on maximizing impact and measurable skill sets. This training emphasizes building and infusing critical, actionable competencies into practices, programs, policies, procedures, protocols, processes, training, and audits.

These trainings result in improved physical, equipment, programmatic, and communication access that increases competent care and improves health. These results also decrease barriers, appointment failures, unequal treatment, and health disparities.
Producing tools to help individuals with disabilities get the most out of their visits with health care providers. Peer mentors, counselors, patient educators, health care navigators, coaches, case managers, care coordinators, service coordinators, social workers, and health care providers also use these tools. This material incorporates the specific realities of living with disability and functional needs. General information regarding seeking and getting effective health care is important for everyone, but information for the general population is not always equally applicable and usable by people with disabilities. Attending to details is a needed survival skill when living with functional needs. This detail can be missing when materials are produced "for and about" instead "of, with and by," people with disabilities. Examples of these materials are listed below.
·

Identifying and documenting,as far back as the 1990s, that aging with disability issues are not limited to people experiencing post-polio syndrome but are shared by many who live long term with disability. This real potential threat of a "cascading" or "house of cards effect" related to functional loss and thus loss of independence needed attention. These effects include but are not limited to increasing arthritis and pain, deteriorating balance, walking, the threat of falls or injuries, loss of ability to exercise, as well as c

ommon ag

e-related changes that everyone experiences. These changes can potentially threaten the ability to operate mobility devices safely. June continues to advocate for essential interventions in the form of periodic assessments that incorporate specific exercises and the use of technology.
California Medi-Cal Provider Site Review Tools:
Other states are adopting versions of this model ad tools.


Examples of her frequently used and cited materials include:

Available on request CV / Resume which includes updates for:

Home | Emergency Work | Emergency Resources | Health Work

jik@pacbell.net
© 1998 - 2022 June Isaacson Kailes, Disability Policy Consultant, All Rights Reserved.
Created 11/8/97 | Updated 1.2.22