Order Form - No charge for shipping and handling except for international orders *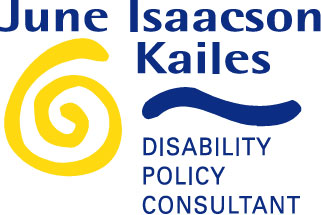 Cutting Edge Disability Resources



Many of these resources are now available for download on other web pages on this site.
If you are not able to find what you are looking for contact jik@pacbell.net

Archived Page (provided for reference, but no longer updated)


Advocacy: Reality or Rhetoric Inventory, 1999, 5 pages, $10.
A popular questionnaire tool that helps evaluate an independent living center's or other disability related organization's level of commitment to advocacy and systems change. Item # 97-1
Beyond Oppression: Feeling the Movement and its Power! December, 1996, 11 pages, $15.
Makes the case that, as leaders, we must take the time to help others move from being held back and locked out by internalized oppression to moving toward adopting a rights-bearing attitude. Dealing with oppression means helping people move from destructive, depressing, internalized anger to focused, energy-enhancing, externalized anger. It means moving from passivity to activity. It means moving from identifying as a poor oppressed cripple to identifying as a person with a disability who has rights, pride, passion and power! Suggests strategies for assisting with this transition. People have to get angry and converting oppression to anger means converting anger to action and power. Also discusses how people in the movement should not inadvertently become the oppressor. A must read! Item # 96-1
Building and Maintaining Relationships with Elected Officials, 1998, 19 pages, $15.
Covers items to consider as you work to build and maintain relationships with your elected representatives. Strategies are presented on to how to build a profile, plan for, carry out and follow through on visits and contacts with your elected officials. Item # 97-2
Disability Pride: The Interrelationship of Self-Worth, Self-Empowerment, and Disability Culture, published by the Independent Living Research Utilization (ILRU) Research and Training Center on Independent Living, Houston, 1993, 84 pages, $20-Hard Copy.
An excellent, practical and easy to use idea kit for people who facilitate advocacy training and skill building. Consists of over 20 different handouts, exercises and activities utilizing an array of tools and techniques to assist advocacy training facilitators in helping people examine: how common stereotypes about disability influence self-image and feelings about disability; disability culture as the common experience among people with disabilities; and the importance of disability identity and pride as related to self-empowerment.
Item # 93-1
Disability Pride Inventory, 1997, 3 pages, $3.
Discussion tool which stimulates discussion on disability pride, identity and culture. Item # 97-3
Value Your Time, Be Clear About Your Goals and Why You are Agreeing to Join, and Avoid Tokenism, 2002, 9 pages, $ 10.
Includes hard-hitting questions to ask before you join a board, group, committee, task force, panel or advisory council, and a checklist for those behaviors that may represent tokenism in the context of being a member of any of these groups. Item # 02-3
Identifying People Who May Be Able To Assist You, 1994, 5 pages, $4.
Successful people ask for help. Tool which helps to think about identifying and recruiting specific people / mentors who may be of assistance in one's striving to achieve specific goals. Item # 94-1
Putting Advocacy Rhetoric Into Practice: The Role of the Independent Living Center, 32 pages, published by the Independent Living Research Utilization (ILRU) Research and Training Center on Independent Living, Houston, 1988, $10-Hard Copy.
This monograph challenges people involved in managing Centers for Independent Living to ensure advocacy has a priority prominent position. Topics covered in detail include: why advocacy is so important; advocacy and service: the dual commitment; establishing an effective systems advocacy approach; advocacy's place in direct services; independent living networks; lobbying; need to determine advocacy priorities; development of new disability leadership; preventing or reducing the impact of burn-out; cloning; devoting significant time and resources to systems advocacy; what constitutes representative community input; who is responsible for systems advocacy; threat of co-optation; and much more! A must-read for serious board members, advocacy skill trainers, staff and volunteers of Centers for Independent Living or disability-related organizations by, for, or of people with disabilities. Item # 98-1
Tips for Effective Goal Setting, 1997, 2 pages, $1.
Goals are dreams with deadlines committed to paper. Powerful tips to follow throughout the goal setting and refining process. Item # 97-6

ADA - Americans with Disabilities Act:

Accessibility Checklist for Events and Meetings, Edition 1.1, Revised June 1998, 18 pages, $20
A shortened version and companion piece to Accessibility Guidelines for Speakers and A Guide to Planning Accessible Meetings. An indispensable tool for meeting and event planners who are somewhat familiar with access issues. Item # 98-2
Accessibility Guidelines for Speakers, Revised July 2000, 18 pages, $20.
A concise guide offering important tips in assuring access to the widest possible audience. Includes how to: make visual aids accessible through oral narratives and format; work with sign language interpreters; make soundtracks accessible through captioning; work with assistive listening systems; convert handout materials to alternative formats (Braille, large print, disk, audio cassette); record material on audio cassette; and locate Braille transcription, captioning, recording and duplicating services. Item # 98-3
Americans with Disabilities Act Compliance Guide for Organizations, 1995, 225 pages, Hardcover, $45.
Informal presentation on ADA compliance with chapters on: program access and nondiscrimination; physical access; communication access; and employment practices. Gives steps for completing an ADA compliance plan, contains checklists, planning sheets, samples of ADA compliance plans and lists many resources available for additional information and assistance. (Compliance with the transportation provisions of ADA are not covered). Item # 95-1
The Americans with Disabilities Act: Questions and Answers on Employment, published by the Dayle McIntosh Center, Anaheim, California, 1992, 36 pages, $10.
Easy to read, concise guide covers the most common questions asked about ADA and employment. A must-read for all entities which must comply with ADA's employment provisions. Over 5,000 copies sold! Item # 92-1
ADA Videos, March 1993, 10 pages, $ 5.
A listing of 35 ADA-related videos, Title I through IV, gathered from multiple sources. This document lists: title, caption-status, subject-summary, vendor (address and telephone), length, costs, and, in some instances, an informal rating and comments. Item # 93-2
A Guide to Planning Accessible Meetings, published by the Independent Living Research Utilization (ILRU) Research and Training Center on Independent Living, Houston, 1993, 166 pages, Hardcover, $30.
Helps increase profits while avoiding costly mistakes. Save time, money and legal hassles by learning to plan accessible meetings which meet the standards and intent of ADA. This practical and comprehensive guide helps you: comply with the ADA; increase profits; attract new customers; avoid embarrassing and illegal mistakes; create a meeting environment is friendly and accessible to all users; and include people with disabilities in your meeting planning.

Provides an adaptable month-by-month activities planning chart; step by step advice and tools for conducting site surveys; critical tips on negotiating contracts with meeting facilities; how to offer communication, physical and visual/print material access; samples of accessibility policies and meeting set-up forms; a guide for speakers on accessibility; a comprehensive outline for conducting orientation meetings for facility personnel; how to get tax deductions or credits for making accessibility changes; how to communicate about disability issues without offending people with disabilities; how to use accessibility symbols and signs; how to assess a meeting environment for potential "triggers" of Environmental Illness; resources for captioning, recording, duplicating and Braille transcribing; and descriptions of today's critical technology such as emergency warning systems, notification devices, computer-assisted note taking, assistive listening systems and more. Item # 93-3
See also "Universal Design."



Language is More Than a Trivial Concern!, November 1990, Revised: 1999, 29 pages, $20.
Sensitizes people to appropriate terminology to use when speaking with, writing about or referring to people with disabilities. Challenges readers to be aware of the importance of using disability-neutral terms. Details preferred language and gives reasons for the disability community's preferences. Serves as an excellent reference tool for the public, media, marketers, providers and for board members, staff and volunteers of disability-related organizations. Includes a language quiz and many examples. A best seller! One page preview. Item # 99-1

Examples of Preferred Disability-Related Terms, 2002, 1 page, Free with any purchase] Quick tips for writers and reporters. Item # 02-2
Preferred Practices to Keep in Mind as You Encounter People Who Have Disabilities, 1994, Revised 2005 Edition, 23 pages, $15.
Describes practical approaches to use when providing goods and services to people with physical, visual, hearing, cognitive, intellectual, and psychiatri disabilities, as well as people with significant allergies, asthma, multiple chemical sensitivities, and respiratory-related disabilities. Excellent training tool for people working with the public. Includes quiz as well as language and communication tips . Item # 98-4
Who are People with Disabilities? 2002, 4 pages, $3.
Reviews a variety of current statistics and reinforces that: disability: is a common characteristic and occurrence within the human experience, people with disabilities are a part of the world's diversity, and the importance of thinking about disability broadly. Item # 02-1
Disaster Preparedness:

Creating a Disaster - Resistant Infrastructure for People at Risk Including People with Disabilities, November 30, 1999, 19 pages.

Report:
$ 10 - mailed copy Item # 2000.1
$ 5 - on disk (Word Perfect 8). Item # 2000.1.d
$ 3 - sent by e-mail attachment. (Word Perfect 8 or ascii) - please specify. Item # 2000.1.a
Power Point Presentation (16 slides)
$ 8 - on disk. Item # 2000.1.ppd
$ 5 - sent by e-mail attachment. Item # 2000.1.ppa
Report prepared for: Secretariat, Committee for the Global Assessment of Earthquake Countermeasures, Five-year Assessment Project Team Disaster Management Division, Office of the Governor, Hyogo Prefectural Government, Kobe, Japan.

Primary focus of report covers people who cannot always comfortably or safely access and use some of the standard resources offered in disaster preparedness, relief and recovery. People who are "vulnerable" or "at risk." This includes, but is not limited people with limitations in vision, hearing, mobility, and cognition as well as older people, people who use life-support systems, people who use service animals, people who are culturally isolated, and people who are medically or chemically dependent. A significant number of these people don't identify as having any form of disability or limitation.

These groups represent a complex variety of concerns and challenges. Many have very little in common beyond the fact that they are often left out of disaster preparedness planning and emergency response.

Report is based on lectures, interviews, and site visits with government and community representatives, as well as reading materials gathered during August 31 - September 4 1999. Most recommendations are accompanied by rationale and suggestions for specific content as well as reference to other resource materials. Key recommendations include:

People with disabilities, their families, friends, neighbors and disability-related organizations should play an active role in all planning for, and activities of, emergency preparedness, response and recovery.
Significant FUNDS and energy be devoted to applying what has been learned to prepare and plan for the next disasters.
Government needs to promote, fund and reward the development of disaster preparedness and response plans for all work, school, human service and non-government organizations sites.

Other recommendations cover:

Role of People with Disabilities in Disaster Preparedness and Relief Planning
Role of Disability-related Organizations in Disaster Preparedness and Relief [Non Government Organizations and Community-based Organizations]
Shelters and Evacuation Centers / Temporary and Permanent Housing
Communication Access
Reconstruction and New Construction
Disaster Preparedness and Response Training
NEW! Emergency Evacuation for People with Disabilities
Power Point Presentation:

National Fire Protection Association –

NFPA

World Safety, Conference & Exposition®

Salt Lake City

,

UT

,

May 24, 2004

,

(32 slides with notes).

Objectives: Understand specific egress issues re: buddy systems (personal support networks), and evacuation devices. Attention to increasing emergency response access for people with disabilities gets woven into responders' culture and competencies.

Audience: Emergency managers, responders, advocates, and people with disabilities.

Item # 04-03ppa

sent via e-mail $ 40.

Item # 04-03ppd

sent via disk $ 50.
Living and Lasting on Shaky Ground: An Earthquake Preparedness Guide for People with Disabilities, 1996, 147 pages, $45.
Provides practical and disability-specific information used as a preparation tool for individuals with disabilities, their friends, families and service providers. Guide also serves as a training tool kit for disability-related organizations who offer workshops on earthquake preparedness for people with disabilities.

Topics includes: understanding why preparation is important, creating practical plans, identifying resources, developing strategies and putting plans into practice. Item # 96-2
Earthquake Tips Pack for People with Disabilities, 1996, 18 pages, $20. Item # 96-3

The first three tip sheets offer self-help preparation and survival tips for people with a variety of disabilities.

1.) Earthquake Tips for People with Disabilities - includes: establishing a personal support network (items to discuss, give and practice with this network); conducting an "Ability Self-Assessment;" collecting supplies to keep with you at all times; collecting disability-related supplies for emergency kits; maintaining a seven-day supply of essential medications; keeping important equipment and assistive devices in consistent, convenient and secured places; and practicing assertiveness skills.

2.) Earthquake Tips for Creating an Emergency Health Information Card - communicates to rescuers what they need to know if they find you unconscious, incoherent or need to quickly help evacuate you. Details what card should contain, gives examples and recommends where to keep copies. Includes an Emergency Health Information Card Work Sheet used to draft your card and a prototype card to use to complete your card.

3.) Earthquake Tips for Collecting Emergency Documents - details important information typically needed after a disaster.

4.) Earthquake Tips for people with specific disabilities:
People with Visual Disabilities
People who are Deaf or Hard of Hearing
People with Communication and Speech Related Disabilities
People with Psychiatric Disabilities
People with Developmental or Cognitive Disabilities
People with Environmental Illness or Multiple Chemical Sensitivities
People who Use Life Support Systems
People with Mobility Disabilities
People with Psychiatric Disabilities
Service Animal and Pet Owners
Self-Reliance and Resourcefulness Are Key to Being Quake Safe, 1988, 10 pages, $ 5.
Gives strong and specific recommendations regarding preparation for a earthquake. Presents a list of steps to prepare for an earthquake; to assess one's environment immediately after a natural disaster; to build social or "buddy" networks with other people; and to handle an earthquake as it occurs, during after-shocks and possible evacuation. Other resources covering the subject are included. An excellent "how to" piece as well as a starting point for a workshop or training on dealing with natural disasters. Item # 88-1
Self-Reliance and R
esourcefulness: The Keys to Being Quake-Safe, Paraplegia News, October 1985, 3 pages, reprint, $3.
A briefer, earlier version of the paper described in "Self-Reliance and Resourcefulness Are Key to Being Quake Safe." Item # 85-1
Education:

A Sociometric Comparison of Mainstreamed, Orthopedically Handicapped High School Students and Nonhandicapped Classmates, Roberto Flores De Apodaca, Jan Mueller, Janice D. Watson, and June Isaacson Kailes, originally published in Psychology in the Schools, January, 1985, reprint, 7 pages, $ 4.
After Public Law 94-142, The Education of All Handicapped Children Act of 1975, passed, this academic study was designed to see how children with no disabilities reacted to those with physical disabilities mainstreamed into high school settings. The study focuses on 29 students with orthopedic disabilities in 22 integrated school settings. Researchers found students with orthopedic disabilities received significantly higher sociometric ratings than their non-disabled peers. Traces related academic research findings and theories; describes methods used for this research study; and indicates findings and recommendations for additional research on mainstreaming issues. Item # 85-2
Health, Wellness and Aging with Disability:

Aging With Disability, audio cassette, April 1994, approximately 60 minutes - recorder live*, $10.
Informal discussion with first-year medical students. Item # 94-2
Aging with Disability: Another Advocacy Priority, in The Networker, Vol. 3, No. 1, Fall/Winter January 1990, 2 pages, $3.
One of the first consumer focused articles broadening the aging with disability issue beyond polio and spinal cord injury. Details personal experience, sometimes humorously, of aging with cerebral palsy and the frustration with the medical community's lack of knowledge. Advocates for more research, more involvement of people with disabilities and more advocacy to address elements of aging with a disability. Item # 90-1
Aging with Disability - Good News and Bad News, in Western U-View. XX: 17, 1 Page, $1.
A short overview of the issues and resources. Item # 01-4
Aging with a Disability: Educating Myself, in Generations, Journal of The American Society on Aging, Vol. XVI, No. 1, Winter 1992, 3 pages, $3.
A more in-depth article than "Aging with Disability: Another Advocacy Priority." Details personal experiences about the lack of information related to aging with a disability. Lists specific questions in key areas (research, prevention, nutrition and advocacy) which need answers. Item # 92-2

Aging with a Disability: Planning for the Future, 1997, 60 minutes, recorded live,* $10.
Dscussion covers concerns and issues regarding living and aging well with disability, advocacy issues, importance of best practice information, knowledgeable and accessible health services assessment and evaluation guidelines, need for national health and wellness information network and the role of independent living centers and other disability-related organizations. Item # 97-7

Aging with a Disability: Research Findings and Policy Implications for the Future, audio cassette 2000, approximately 90 minutes - recorder live*, $10.
Reviews recent research findings concerning medical, functional and psychological changes in people aging with such disabilities as spinal cord injury, cerebral palsy, polio, rheumatoid arthritis and stroke and covers implications for public policy, advocacy, access to healthcare and education of healthcare providers. Speakers: Bryan Kemp, PhD, Director, Rehabilitation Research and Training Centers on Aging with a Disability and Aging with Spinal Cord Injury, Rancho Los Amigos National Rehabilitation Center, Downey, CA; Fernando Torres-Gil, MSW, PhD, Professor and Associate Dean, School of Public Policy and Social Research, University of California, Los Angeles and June Isaacson Kailes, Disability Policy Consultant. Item # 00-1

Bridging the Complaint Gap: Consumer - Provider Partnership
Power Point Presentation:

Cosponsored by Rehabilitation Institute of Chicago Rehabilitation Research and

Training

Center

on Aging with Disability,

Chicago

,

Illinois

April 20 - 21, 2001

, (32 slides with notes).

Objectives: Understanding how to modify your approaches as a communicator, teacher / educator, learner, and one who respects time.

Audience: health care providers, service providers, advocates, and people with disabilities.

Item #

01-05ppa

sent via e-mail $ 30.

Item #

01-05ppd

sent via disk $ 40.
Can Disability, Chronic Conditions, Health And Wellness Coexist? 2000, 6 pages, $3.

Covers:
health and disability as not being mutually exclusive,
the problem with people with disabilities seeing health as just one more thing beyond their control, something they cannot change or influence,
newer models of health,
the importance of care providers understanding and discarding negative misconceptions and stereotypes surrounding disability so they are better able to support and contribute to the health of people with disabilities,
the inability of people with disabilities to get helpful information regarding what type of exercises is best suited to their specific limitations,
People with disabilities needing exercise: guidelines, facilities and equipment,
Although scarce, scientific and practical information does exist, it is poorly organized and spread over a wide range of disciplines.
Item # 00-4
Can Disability, Chronic Conditions, Health & Wellness Coexist?
Power Point Presentation: Select Summit on Disability & Health: A Call to Action, November 13 & 14, 2003, Des Moines, IA (37 slides with slide notes).
Objectives: What's the issue? What people with disabilities want / need? How do we get it - action plans & strategies.
Audience: people with disabilities, health care providers, researchers.
Item # 03-2-ppa sent by e-mail $ 30.
Item # 03-2-ppd sent by disk $ 40.
Disability & Health: Action Plans & Strategies for Keeping Our Bodies Out of the Shop
Power Point Presentation: Grantmakers In Aging Annual Conference 2002, The Changing Face of America: Aging Realities in the 21st Century, Long Beach, California aboard the Queen Mary, October 16-18, 2002 (44 slides with slide notes)
Objectives: Connect stories, glimpses, of real accounts of real people to funding recommendations
Audience: Grantmakers
Item # 00-5-ppa sent by e-mail $35.
Item # 00-5-ppd sent by disk $ 45.
Disability & Health: Action Plans & Strategies for Keeping Our Bodies Out of the Shop
Power Point Presentation: Women with Disabilities: Health Care Summit
Strategies for Change, Iselin, New Jersey, Sponsored by NJ Developmental Disability Council, June 16, 2001, (93 slides with slide notes)
Objectives: What's the issue? What people with disabilities want / need? How do we get it - action plans & strategies.
Audience: people with disabilities and health care providers
Item # 00-6-ppa sent by e-mail attachment $ 60.
Item # 00-6-ppd sent by disk $ 70.

Disability and Health, a Systems Advocacy Agenda or (Keeping Your Body out of the Shop!
), audio cassette 2000, approximately 90 minutes - recorder live.* $10.
Covers advocacy strategies to begin to meet the following needs:
Experienced & knowledgeable providers
Best practice information
National information & dissemination networks
Enforcement of ADA in health care
Strong advocacy & support role in health & wellness for disability-related organizations
Item # 00-2
Fit to be Tried, MAINSTREAM, Volume 19, No. 9, June/July 1995, 9 pages, reprint, $5.
A 1995 list of videos and exercise tapes specifically for people with disabilities. Offers items to consider when choosing tape fitted to one's needs. Item # 95-2
Health Care Providers and Health Care Consumers: the Complaint Gap, 2001, 6 pages, $ 5.

Details patients complaints about providers and providers complaints about patients in the areas of communication, disability issues ( knowledge and experience, access, community services and comprehensive evaluations) and respecting people's time. A good exercise piece for cultivating discussion regarding what both groups can do to bridge this gap. Item # 01-3

Health, Wellness and Aging with Disability, 1995, Revised 2000, 80 pages, Hardcover, $40.
Formerly Aging with Disability, covers: what is currently known, list: new realities, new concerns regarding health, exercise, maintaining functional abilities, and many research questions; advocating for health reform and more; best practice information and guidelines; health services, assessment and evaluation guidelines; need for national information and dissemination network; role of independent living centers and other disability-related organizations; tips for weighing whether you'll use the gear; definitions and resources. Item # 95-3

SALE! 1998 Edition includes Item # 98-6, 97 pages, Hardcover, $30. Item # 95-3A (Numbers limited)


Health, Wellenss and Aging with Disability: Priorities for Funders, 1998, 90 minutes, recorded live, $10.
Suggests how funders can make some significant contributions to a very under-funded area of Health, Wellness and Aging with Disability by focusing on and devoting resources to:


1] support the production and dissemination of: best practice health care information and exercise guidelines and
2] support of consumer and advocacy organizations who focus on: access to, and effective use of health care; health care policy; and dissemination of information.
Illustrates the nature of the challenge by giving some brief background and a few examples; review some of the research confirming that typical age-related conditions have a greater negative impact on people who live long-term physical disabilities; and discusses how these conditions can be preventable or reduced with well timed, proactive interventions.

Presented with Margaret Campbell at "Funding all Women - including Women and Girls with Disabilities" in Oakland, California sponsored by Grant Makers in Health 6/18/99. Item # 98-8
NEW! How To Keep Running When There Are No Trade-ins & Few Replacement Parts!
Partners on Wellness: Working Together to Promote Equality in Health Care for Women with Disabilities - Women with Disabilities Health Care Task Force, NJ Council on Developmental Disabilities , Statewide Conference, Princeton, NJ May 1, 2004 (79 slides with notes and handouts).

Objectives:

Confirm aging with disability issues are a real concern

Strategies for getting what you need

·

Present new & reinforce known tools/strategies that bridge gap between safe, quality health care & reality of health care experiences today

Audience: policy makers, health care providers, advocates, and people with disabilities.

Item # 04-02ppa+h1-3

(3 Word attachments) sent via e-mail $ 70.

Item # 04-02ppd+h1-3

(3 Word attachments) sent via disk $ 85.


Midlife Cripdom: Getting Fewer Miles per Gallon?"
THE DISABILITY RAG, Volume 16, No. 4, July/August 1995, 16 pages, $10.
Terms, aging and cripdom, new realities and new concerns and a lot of new questions, advocating for more than health reform, a few horror stories, crip symbol hangups, misguided pride versus freedom, a few tips for weighing whether to use the gear, recommended readings, online resources, new disability resource. Reprint, Item # 95-4
NEW! Plan Ahead When You Need Specific Disability-Related Assistance! 2003, 3 pages, Item # 03-01, $5.


A handy 25+ item checklist people with disabilities can use to plan ahead for any specific disability-related assistance they may need to successfully and effectively accomplish visits with health providers. Even if people have seen providers before, it is helpful to remind them of specific needs. Some items are things that people can remind providers about as they meet with them. Others, that are "flagged" are items ppl should call about and ask for their visit.


For example:


If you need an interpreter for a non-emergency appointment, providers need notice (sometimes several weeks) in order to have one available.
If you need assistance transferring to an exam table, giving providers notice allows them time to plan to have people available who can help you.
Resource List: Wellness, Self-Care, Exercise & Aging with Disability

Savvy Health Care Consumer

Savvy Health Care Consumer Tools Pack, 2001 $ 25. Item # 01-2
Unique and helpful updated set of checklists and worksheet also included in Be a Savvy Health Care Consumer, Your Life May Depend on it!
Visit Strategies: Maximizing Your 15-minutes or Less, 1 page.
Questions to Ask Before Procedures, Tests, Consultations and Medications, 3 pages.
Checklist: Questions for Choosing or Evaluating Health Care Providers, 5 pages. Covers:

Qualifications / Public Records
Physical Access
Communication Access
Financial Access
Qualities and Attitudes
Worksheets on Choosing and Evaluating Health Care Plans, 2001, 10 pages. Covers:

Anticipating Your Needs
Your Costs
Costs and Coverage Limits
Evaluating a Plan
Checklist: Evaluating a Plan for People with Disabilities and Chronic Conditions, 8 pages.
Checklist: Hospitals: Be Assertive about Your Needs 1998, 2 pages.
Be a Savvy Health Care Consumer, Your Life May Depend on it!1998, 95 pages, Hardcover, $40.Item # 98-7,
Encourages you to take greater responsibility for your own health, wellness and health services. It is about savvy health care consumerism. It is about your knowing how to work effectively with the health care system and successfully advocate for your needs as well as the needs of family members and significant others.

Today's health care environment is undergoing massive and rapid change that has far-reaching effects on all consumers. As you experience a leaner and meaner health care system, it is more important then ever before that you sharpen your self-advocacy skills. The payoff of using this information may save your life.

The guide helps you:

to distinguish your active from your passive health care behaviors
understand why as an active consumer you will have more positive results


Learn visit strategies:

why it is important to be informed and stay informed about your health condition(s)
how to find and evaluate the quality of health information
importance of support groups and peer support
strategies for effectively maximizing your limited time with providers

how to prioritize your questions
what to do when there is not time to get your questions answered
how to effectively provide information
how and when how to effectively work with a support person

get and remember information
how to use sample questions from checklists on: procedures, tests, consultations and medications
how to ask open-ended questions
how to know when you may need, the importance of, and how to get second and third opinions
when to see and effective ways to locate and work with a specialists


Learn what to look for in health providers:

techniques to use, questions to ask regarding how to evaluate qualifications, physical, communication, and financial access; qualities and attitudes
dangerous provider warning signs


Understand:

the differences between various types of health plans
advantages and disadvantages of managed care plans
how to get and compare information and quality
how to anticipate your needs
options for choosing doctors and hospitals
travel issues related to health care coverage
your rights
potential costs and coverage caps
what to look for in a health plan that relates specifically to people with disabilities and chronic conditions:

disability expertise issues
access to specialists issues
interpretation of medically necessary
denial of covered benefits/delays in access to service
availability of durable medical equipment and supplies
health, wellness and prevention services
prescription drugs
use of the emergency room (ER)


Plan for hospital stays:

knowing what to expect
planning for your specific needs
establishing a personal support system
choosing a hospital
dealing with consent forms
banking your blood
preparing for discharge before you go
knowing who is in charge, staying informed, using patient advocate departments
understanding the bill


Learn to obtain and maintain your medical records and health information
Articles excerpted from this book:
"One of the most important topics MAINSTREAM has ever reported on is health care. Obtaining appropriate health care is crucial for everyone, but none more so than persons with a disability. The following articles by June Iaacson Kailes are powerful guides to taking and keeping control of your health care." Editor William G. Stothers

SALE! 1997 Edition not bound, $ 25 REDUCED TO $ 15, Item # 98-7B (Numbers limited)



Be a Savvy Health Care Consumer, audio cassette, 1997, approximately 90 minutes - recorder live*, includes handouts, $15.

Covers the concerns of people with disabilities regarding dealing with health care providers and the concerns of providers dealing with health care of people with disabilities. Includes interactive discussion: focused on communication and respect, finding knowledgeable providers, being informed, insurance and maximizing productive time with providers. Speakers: Dorval MD; Kailes MSW, Kriegsman PhD, Badenhausen MD. Item # 97-8


Managing Your Own Health Care - You've got to be a Saavvy Consumer to Make Sure Your Needs are Met, MAINSTREAM, Volume 22, No. 8, May 1998, 4 pages, reprint $2.50. Item # 98-5

Independent Living:

Centers for Independent Living (CIL), 1985, Revised January 1997, 12 pages, $15.
Defines and explains Centers for Independent Living including what makes CILs unique, why CILs were created, locating a CIL, and their impact. Includes an independent living reading list and more. Useful handout for public information and discussions regarding independent living philosophy and values. Item # 97-9

IL Philosophy and Practice, January - February 1997, (3 tapes, approximately 4 hours, recorded live* , includes handouts, 75 pages) $ 45.

A Renewal of Spirit, Back to Our Roots, Getting on the Same Page! Includes: IL Paradigm / Core Principles; Advocacy: What it is and what it ain't!; oppression, pride, and identity issues - we know and like who we are; infrastructure and leadership: connecting service demand with advocacy, services litmus test and planning. Item # 97-10
Tape 1 - Board of Directors Focus - IL paradigm, disability, pride, advocacy and oppression.
Tape 2 - Staff focus - IL paradigm in more depth and disability pride and identity issues.
Tape 3 - Staff focus - Advocacy and oppression.
People with Physical Disabilities and the Independent Living Model, 1985, with Marie Weil, as part of an anthology titled Case Management in Human Service Practice; editors Weil, Karls and Associates, Jossey-Bass Publishers, 38 pages, reprint, $10.
Addresses alternatives to "case management" approaches used by Centers for Independent Living. Emphasizes individual self-direction as opposed to models that perceive professionals as the "in charge" experts. Discusses the history of the vocational rehabilitation system up to and including the development of centers. Explains why terms such as case management and client are not acceptable in the independent living movement. Item # 85-3
Personal and Family Counseling, chapter in A Handbook of Services for the Handicapped, Greenwood Press, by Alfred H. Katz and Knute Martin, 1982, 16 pages, reprint, $ 10.
Describes types of counseling, psychotherapy and mental health services with special attention to the needs of people with physical disabilities. Explains the difference between psychoanalysis and psychotherapy or counseling; the importance of addressing issues of sexuality in counseling services; where to find mental health services; and types of counselors. A section on peer counseling describes the importance of the "self-help" movement and peer support. Helpful to those who may wish to use it as a basic educational piece for training peer counselors and professionals. Item # 82-1
Right to Die Issue:

Disabled Community Infuriated by ACLU's Stand on Bouvia Case, May 1984, 3 pages, reprint, $ 3.
Written during the heated debate over whether Elizabeth Bouvia, a woman with cerebral palsy and arthritis, should be granted by a local court the right to starve herself to death while in a hospital. The Southern California ACLU argued her case before both the court and public. Details the problems the disability rights movement has with the ACLU's position. Excellent handout for discussing right-to-die and disability issues. Item # 84-1
The Right to Die or the Right to Community Support?, Spring/Summer, 1990 edition of Midwest Medical Ethics, with Maggie Shreve, 5 pages, $10.
Explores the right to die question as it relates to having a significant disability; the myths and misconceptions society holds about people with disabilities; and the resulting false analysis of how death is better than disability. Discusses the history of extreme prejudice toward people with disabilities; the thinking of suicide advocates who support the rights of individuals with significant disabilities; practices of euthanasia; and the impact the medical model has on society's view of this issue. Advocates a shift from the medical model to the independent living/disability rights model rooted in a civil rights and social justice paradigm. Item # 90-3
Sexuality:

Intimacy & Disability, by Waxman and Levin, assisted by Kailes, edited by Institute for Information Studies, 1982, 87 pages, $15.
This photocopy of an out of print book describes and defines intimacy and intimate relationships, suggesting methods for people with disabilities to develop positive self and body images; to eliminate stereotypes; to understand male and female roles; to control sexual and reproductive health care; and to join the social scene. Provides detail about birth control; family planning; establishing social relationships; initiating sexual relationships; avoiding sexual assault and exploitation; sexual and social rights; and how to obtain help. A must-read publication for people with disabilities who want to explore their sexual identity and social relationships. Item # 82-2
Sex Counseling for Those with Spinal Cord Injuries, with Harriet E. Delgado, originally published in Social Casework, December 1974, 6 pages, Reprint, $4.
A study of individuals with spinal cord injuries indicates the need for a program of lectures; films; individual and group sessions; and inclusion of partners in such training. Based on 30 structured interviews with outpatients at Rancho Los Amigos Hospital in Los Angeles, the research found most individuals with spinal cord injuries were discouraged from discussing issues of sexual functioning while receiving rehabilitation services. Makes several recommendations for initiating an educational program for both inpatients and outpatients with spinal cord injuries; involving individuals and their partners in such program planning and implementation; and educating social work and related professionals on discussion of sexuality. Item # 74-1
Universal Design:

Barrier-Free Design Benefits All, Not Just Disabled, Los Angeles Times, August 5, 1990, Real Estate Section - Speaking Out, 2 pages, reprint, $ 1.
Details the need for and benefits of universal design given America's changing demographics and increasing market demand. Lists elements of good design and includes strong economic arguments for paying greater attention to barrier free design. Item # 90-2
Barrier Free Design Can Improve Your Profit in Multiple Ways, March 1989, 7 pages, $3.
This marketing piece explains how barrier free design enables all people, including people with disabilities, to consume products and services in the public market place. Describes the benefits of ensuring architectural and communication accessibility to business owners and offers advice on how to acquire tax credits for making changes. An excellent resource for use in training about the Americans with Disabilities Act of 1990. Item # 89-1
Offering Access to Customers with Disabilities Expands Market Share, June 1993, 8 pages, $10.
Discusses how making access alterations can have an incredible economic impact on business by way of increased sales and improved image. Examines the growing prevalence of disability and the changing demographics in the United States. Takes a brief look at the role of attitudes. Excellent resource to use for training on the Americans with Disabilities Act of 1990. Item # 93-4
* There may be a few small gaps in some of the tapes. Most audience questions and comments are repeated by speakers for purposes of recording, but some audience questions and comments may be faint.

HOW TO ORDER!

No charge for shipping and handling except for international orders *

Send Order To:

Resources
JUNE ISAACSON KAILES
Disability Policy Consultant
6201 Ocean Front Walk, Suite 2
Playa del Rey, California 90293-7556

Phone 310 821 7080, Fax 310 827 0269

Per Item include:


Item # and Item Name
Quantity
Item Price Total


Per Order include:

TOTAL AMOUNT

Sorry, no purchase orders!


* A check (U.S. currency only - International orders add 45%) made payable to "June Kailes" MUST accompany order.

Complete mailing information:


Name
Title
Company / Organization
Address
Street, Unit #
City
State
Zip Code
Country

In case we need to contact you about your order please give:


Day Telephone:
Evening Telephone:
FAX:
E-mail:



For Overnight Federal Express delivery, please provide your Fed Ex number.

Please call for bulk order rates.





Thank You
Home | Emergency Work | Emergency Resources | Health Work

jik@pacbell.net
© 1997-2018June Isaacson Kailes, Disability Policy Consultant, All Rights Reserved.
Created 10/10/97 | Partial Update 01.1.13