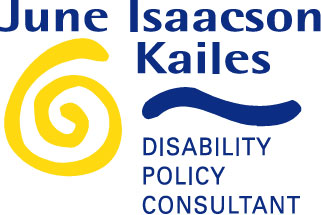 Disability Competencies
General and Overarching
Disasters – Emergencies
Health Care
Language and Terms

General and Overarching

Accessible Meetings, Events, and Conferences (July 2015), Digital updated version of June Isaacson Kailes and Darrel Jones' 1993 work, A Guide to Planning Accessible Meetings. The Mid-Atlantic ADA Center and TransCen Inc.

After 20 years I finally got to update need modernize our book "A Guide to Planning Accessible Meetings" published in 1993, working with a talented team. This July 2015, digital updated version [versus the ole days of cut and real paste clip art] includes both regulatory updates (from the 2010 update to the Act) along with practical doable guidance. No more hard copy and shipping cost, everything is now available online and it can be easily updated.

Disability Simulation Exercises - The goal of disability stimulations is typically to teach about how people with disabilities and use the environment and technology, and to build understanding regarding the importance of accessibility. What happens: pity, fear, feeling fortunate not to have a disability, believing disability is hard and frustrating. "You wouldn't ask a person to pretend to be African-American or gay, so why is it OK to have someone put on a blindfold and think that they can understand what it is like to be blind?" says Kathy Martinez, disability rights advocate. Read more ...

Effectively Including People with Disabilities in Policy and Advisory Groups (Edition 2, 2012), Provides how-to information for effectively including people with disabilities in policy and advisory boards, councils or work groups; contains material on developing and sustaining an advisory group; discusses why to include people with disabilities; and how to identify qualified people with disabilities. Includes a planning checklist that covers defining purpose, structure, size, lines of communication, membership, recruiting, budgeting, staffing, minutes, accountability, meeting access and accommodations; a planning recruiting matrix; and an agenda and minutes template. PDF , Word

Tips for Interacting with People with Disabilities (2011), Includes a quiz to check awareness of preferred practices; sections on: who are people with disabilities and other activity limitations, and specific guidance focused on mobility and physical disabilities, speech, vision, hearing, allergies and environmental sensitivities, and language. PDF, Word

Disasters – Emergencies
Be Real, Specific, and Current: Emergency Preparedness Information for People with Disabilities and Others with Access and Functional Needs,

Edition 1.0, 2016 Preparedness information for the general population is not always equally applicable for people with disabilities. General emergency preparedness information is important for everyone. These materials can be more inclusive when they contain information that focuses on specific functional needs.

Offers guidance, examples, and resources on promoting or producing these materials and includes checking that the content:
is developed in partnership (of, with and by) people who live with disabilities and others with access and functional needs;

includes information that is useful and specific to people with limitations in hearing, vision, mobility, speech, and cognition (thinking, understanding, learning, remembering);

describes disability in accurate and respectful ways and uses neutral terms that avoid offensive words which reflect negative attitudes and stereotypes;

focuses on no cost and low cost preparedness in addition to costly activities;

recognizes that that not all people can afford to buy emergency supplies and equipment;

is available in accessible and usable formats and give users information on how to get these materials in other formats such as large print, audio, disks, or Braille; and

uses resources that are clearly described and annotated with specific links to more resources.

WORD
Checklist for Integrating People with Disabilities and Others with Access and Functional Needs into Emergency Planning, Response & Recovery, 2014 Format: PDF
For emergency planners, managers, responders, and public information officers (PIOs) who have responsibility for developing, maintaining, testing, delivering and revising emergency plans and services. Use it to help:
Evaluate current capacity of critical elements that integrate people with disabilities and others with access and functional needs into emergency planning, response, and recovery.

Identify areas needing attention

Set priorities

Assess progress

Develop inclusive emergency plans, policies, processes, protocols, training, job aids/checklists, standard operating procedures and exercise programs.

Periodically evaluate progress and identify elements that have been implemented, and areas that continue to need attention.
Defining Functional Needs - Updating CMIST (2017) - A CMIST update resulting from the evolving of terms as well as the clarity, precision, and specificity of our thinking and practice. CMIST is a memory tool to help people remember and plan for the five functional needs individuals that may have in an emergency or disaster: communication; maintaining health; independence; support, safety and self-determination; and transportation.
Emergency plans based on optimizing function rather than "specialness" increases the chance of successful accommodation of predictable needs. For example, the fact that people have survived a stroke, tells us nothing about their functional needs for maintaining their health, safety and independence, which can range from no needs to many needs.
Guidance for Integrating People with Disabilities in Emergency Drills, Table Tops and Exercises (Edition 1, 2015), Draft guidance prepared for North Carolina Emergency Management. It uses the Homeland Security Exercise and Evaluation Program (HSEEP) Master Task List format commonly used in the field to provide a set of guiding principles for exercise programs, as well as a common approach to exercise program management, design and development, conduct, evaluation, and improvement planning. The second column is what is new and it focuses on steps that to recruit, accommodate, include, and get feedback from people with disabilities and others with access and functional needs in your exercises. It also includes some suggestions for injects that can be tailored to your specific exercise.
It is work in progress, but I thought you would be interested in seeing and maybe using it. Your feedback is encouraged.

Health Care
Can Disability, Chronic Conditions, Health and Wellness Coexist? (2000), Word, 6 pages, Covers:
health and disability as not being mutually exclusive,

problem with people with disabilities seeing health as just one more thing beyond their control, something they cannot change or influence,

newer models of health,

importance of care providers understanding and discarding negative misconceptions and stereotypes surrounding disability so they are better able to support and contribute to the health of people with disabilities,

inability of people with disabilities to get helpful information regarding what type of exercises is best suited to their specific limitations,

people with disabilities needing exercise: guidelines, facilities and equipment.
Disability Competency Resources – Updated frequently, last update 7.2015, contains listings related to: communication, attitude, physical & equipment access as well as clinical issues. 24 pages.
Quality Services for People with Disabilities and Activity Limitations (2011), 4-part training (sneak peek):
Defines "disability"

Americans with Disabilities Act of 1990 - how it impacts health care services

How health care worker's attitudes & beliefs may affect quality health care

Physical, communication, and medical equipment trying to obtain health care.

Language and Terms
Language Is More than a Trivial Concern! (2010), Sensitizes people to appropriate terminology to use when speaking with, writing about or referring to people with disabilities. Challenges readers to be aware of the importance of using disability-neutral terms. Details preferred language and gives reasons for the disability community's preferences. Serves as an excellent reference tool for the public, media, marketers, providers and for board members, staff and volunteers of disability-related organizations. Includes a language quiz and many examples. Word, PDF

Home | Emergency Work | Emergency Resources | Health Work


jik@pacbell.net
© 1998 - 2016 June Isaacson Kailes, Disability Policy Consultant, All Rights Reserved.
Created 04.1.16 | Updated 04.29.18