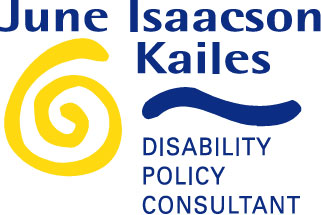 SELECTED EMERGENCEY FOCUSED PROFESSIONAL ACTIVITIES
UPDATED LIST AVAILABLE ON REQUEST

CALIFORNIA
STANDARDIZED EMERGENCY MANAGEMENT SYSTEM (SEMS) COMMITTEES
, member, California Emergency Management Agency, 2007 - present.
Mass Care and Shelter

Technical Group

Training and Exercise
STATE EMERGENCY PLAN REVISION, participant, 2008 - present.

CALIFORNIA STATE CITIZEN CORPS COUNCIL, member, 2008 – present.
CALIFORNIA'S OFFICE OF EMERGENCY SAFETY,
member of Planning Group for People with Disabilities, 1986 - 1986

NATIONAL

American Red Cross Advisory Council Sub-Project: Shelter Facility Survey – access and functional needs update (2014-15) - a multi-sector effort to update ARC's Shelter Survey Tool to meet ADA Law and contemporary needs 2014 - 2015
International Association of Emergency Managers (IAEM)
and

National Emergency Management Association (NEMA)

Work Group to adapt and adopt for guidance the 2014

Checklist for Integrating People with Disabilities and Others with Access and Functional Needs into Emergency Planning, Response & Recovery,

2014

FEMA NATIONAL ADVISORY COUNCIL,
member 2010 – 2016

The National Advisory Council (NAC) was established by the enactment of the Post-Katrina Emergency Management Reform Act of 2006 to ensure effective and ongoing coordination of Federal preparedness, protection, response, recovery, and mitigation for natural disasters, acts of terrorism, and other manmade disasters. The NAC advises the FEMA Administrator on all aspects of emergency management. The NAC incorporates state, tribal, and local governments and private sector input in the development and revision of the national preparedness goal, the national preparedness system, the National Incident Management System, the National Response Framework and other related plans and strategies.
Introduction of Administrator Craig Fugate, Federal Emergency Management Agency
CONSORTIUM FOR CITIZENS WITH DISABILITIES EMERGENCY MANAGEMENT TASK FORCE, member, 2007 - 2011, CoChair 2011
NATIONAL COUNCIL ON INDEPENDENT LIVING – EMERGENCY PREPAREDNESS COMMITTEE, Co-Chair 2011, Member 2011 - present
NATIONAL FIRE PROTECTION ASSOCIATION - Center for High Risk Outreach Fire Safety for People with Disabilities, Task Force - 2004 – present
DEPARTMENT OF HOMELAND SECURITY
FMSS capability provides assistance to
1) "populations requiring support," i.e. individuals with physical, cognitive, sensory, emotional, or other conditions (e.g. advanced age) that impacts their level of functioning, or

2) individuals who have chronic medical or health conditions that require some medical support, but not at the level of care provided under the Medical Surge Capability. Such functional or medical support is provided to the extent possible to accommodate sheltering in a general population shelter. When necessary, support is provided in a FMSS. To the extent possible under emergency conditions and within the capabilities of available resources, the FMSS is a location specifically established, staffed, and equipped to sustain the pre-disaster level of health, safety, and well-being of the individual.
Association of State and Territorial Health Officials, 2008. AT-RISK POPULATIONS AND PANDEMIC INFLUENZA: PLANNING GUIDANCE FOR STATE, TERRITORIAL, TRIBAL, AND LOCAL HEALTH DEPARTMENTS, June 2008, last accessed 07/27/08, Work Group Member, February 2008 – May 2008.
NATIONAL RECREATION AND PARK ASSOCIATION AND NATIONAL RECREATION FOUNDATION'S COMMUNITY PREPAREDNESS AND RESPONSE, Washington, D.C. Workgroup September 4-5, 2003
EMERGENCY PREPAREDNESS WORKING MEETING, SAN ANTONIO Texas. CDC & AMERICAN ASSOCIATION ON HEALTH AND DISABILITY. June 15-16, 2004.
NOBODY LEFT BEHIND: DISASTER PREPAREDNESS FOR PERSONS WITH MOBILITY IMPAIRMENTS, University of Kansas Consulting with and Advisory Group. 2003 – 2004.

Home | Emergency Work | Emergency Resources | Health Work

jik@pacbell.net
© 1998 - 2016 June Isaacson Kailes, Disability Policy Consultant, All Rights Reserved.
Created 11/8/97 | Updated 01.6.16